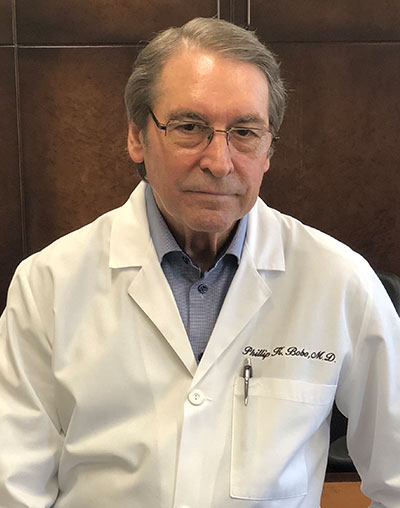 Dr. Phillip K. Bobo
Dr. Phillip K. Bobo, a founding partner of Emergi-Care Clinic, has worked in the fields of emergency and family medicine for over 35 years. His practice philosophy has always been to provide the most up-to-date, contemporary treatment available in a personal and caring environment.
Born in Alden, Alabama, Dr. Bobo grew up in Graysville, Alabama. He graduated from the University of Alabama with a degree in Biology. He received his M.D. from the University of Alabama in Birmingham, where he completed his internship in surgery.
Dr. Bobo moved to Tuscaloosa in 1973 and began his work at DCH Regional Medical Center's Emergency Department. He served as Chief of Emergency Medical Sevices for 19 years and today serves as a member of the referral staff. Through his work at DCH, Dr. Bobo saw the need for improvements in the emergency response system in Tuscaloosa and surrounding areas. He started the first Emergency Medical Services program in West Alabama in 1974 and helped establish the Alabama Poison Control Center. He went on to serve as State EMS Medical Director for eleven years and Medical Director for West Alabama Emergency Medical Services for over 25 years. He also helped build the emergency medical services training program at Shelton State College and the Alabama Fire College.
After opening Emergi-Care in 1983, Dr. Bobo became interested in occupational medicine and has served as plant physician for Uniroyal Goodrich in Tuscaloosa. He has served as medical consultant for Jim Walter Resources, the City of Tuscaloosa, County of Tuscaloosa, along with many small and large local industries. Dr. Bobo ia a Certified Medical Review Officer by the American Association of Medical Review Officers.
Dr. Bobo has been married to his wife Beth for more than forty years and they have four children and six grandchildren. He enjoys spending time with his family, cooking, reading, hunting and weight-training. He is also an avid supporter of Alabama Crimson Tide Athletic programs. He served as one of the physicians for the Tide football team for many years.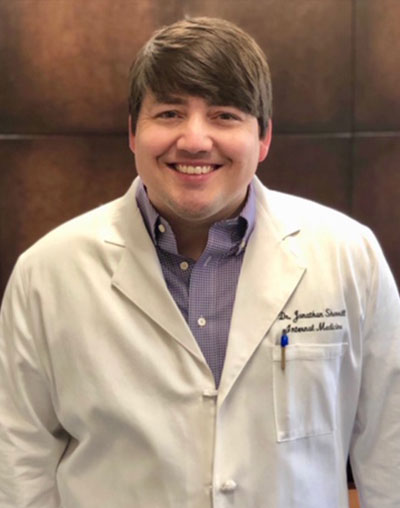 Dr. Jonathan Sherrill
Dr. Jonathan Sherrill is a native of Tuscaloosa. After graduating from Holt High School in 2005, he accepted an athletic scholarship to play baseball at the University of West Alabama. He graduated Magna Cum Laude with a Bachelor of Science in Biology in 2009. Dr. Sherrill went on to complete his medical degree at the Philadelphia College of Medicine graduating in 2015. Upon completing his degree in medicine, he completed a Residency in Internal Medicine at the University of South Alabama.
Dr. Sherrill has also completed many clinical research projects and presented at various regional and national medical conferences. He is a member of the American College of Physicians and the American Board of Internal Medicine. In addition, Dr. Sherrill works as a Hospitalist for the University of Alabama College of Community Health Sciences and as an Assistant Professor of Medicine at the University of Alabama School of Medicine.
Dr. Sherrill and his wife Britney have two young children, Mary Kinley & Sawyer. In his spare time, he enjoys hunting, fishing & Alabama athletics.
OFFICE HOURS:
Mon - Fri: 8:30 am - 6:00 pm
Sat: 8:00 am - 12:00 pm
Sun: 12:00 pm - 5:00 pm
ADDRESS:
1601 University Blvd E
Tuscaloosa, AL 35404
(205) 349-2273